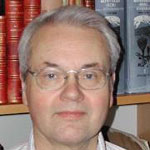 Speciality: Araneae, particularly Lycosidae.
Education: Fil.lic. from the Department of Zoology, University of Stockholm, 1974.
Professional status: Curator at the Swedish Museum of Natural History 1970-1979. Senior curator since 1979.
Research interest: Taxonomy, ecology and behaviour of spiders (Araneae), with special emphasis on wolf spiders (Lycosidae). Biodiversity of spiders in Scandinavia.
Current research: Revision of species within different genera of wolf spiders (Lycosidae) and jumping spiders (Salticidae). Annotated checklist of spider in Sweden
Field experience: Kenya and Tanzania 1971-72; Sri Lanka 1974; Kenya 1975; Spain 1977, 1986; Crete (Greece) 1997, 2000, 2001, 2004; Marocco 1998; Tenerife (Spain) 1999.

Torbjörn Kronestedt
Senior Curator
Phone: +46 8 5195 4260
Fax: +46 8 5195 4099
Address:
Department of Entomology
Swedish Museum of Natural History
P.O.Box 50007
SE-104 05 STOCKHOLM
SWEDEN


:: benefit for the website ::
Collection Datas Museum



:: references ::


| | | |
| --- | --- | --- |
| HOLM, A., KRONESTEDT, T. (1970) | | A taxonomic study of the wolf spiders of the pardosa pullata-group (Araneae, Lycosidae).&nbspActa ent. bohemoslov. 67(6): 408-437 |
| LOGUNOV, D. V. & KRONESTEDT, T. (1997) | | A new palearctic species of the genus Sitticus SIMON, with notes on related species in the floricola group (Araneae, Salticidae). Bulletin of the British Arachnological Socity 10(7): 225-233 |
| KRONESTEDT, T. (1997) | | Erstnachweis von Aulonia kratochvili (Araneae, Lycosidae) für Europa. Arachnologische Mitteilungen 14: 77-80 |
| KRONESTEDT, T. (1998) | | Sitticus inexpectus (Araneae, Salticidae) new to Italy. Arachnologische Mitteilungen 15: 81-83 |
| KRONESTEDT, T. (1999) | | Pardosa fulvipes (Araneae, Lycosidae) new to Slovakia. Arachnologische Mitteilungen 18: 71-76 |
| KRONESTEDT, T. & LOGUNOV, D. V. (2001) | | On the separation of Sitticus ranieri PECKHAM & PECKHAM and S. saxicola (C.L. KOCH) (Araneae, Salticidae). Revue Suisse de Zoologie 108(3): 463-481 |
| KRONESTEDT, T. & LOGUNOV, D. V. (2003) | | Separation of two species standing as Sitticus zimmermanni (SIMON, 1877) (Araneae, Salticidae), a pair of altitudinally segregated species. Revue Suisse de Zoologie 110(4): 855-873 |
| LOGUNOV, D. V. & KRONESTEDT, T. (2003) | | A review of the genus Talavera PECKHAM and PECKHAM, 1909 (Araneae, Salticidae).&nbspJ. Nat. Hist. 37: 1091-1154, Taylor & Francis Ltd |
| KRONESTEDT, T. & MELLBRAND, K. (2006) | | Hoppspindeln Pseudicius encarpatus aterfunnen i Sverige.&nbspFauna och Flora 101(3): 24-28 |
| KRONESTEDT, T. (2006) | | On Pardosa schenkeli (Araneae: Lycosidae) and its presence in Germany and Poland. Arachnologische Mitteilungen 32: 31-37 |
| KRONESTEDT, T. (2009) | | Taxonomic notes on Agroeca (Araneae, Liocranidae). Arachnologische Mitteilungen 37: 27-30 |
| BOSMANS, R., VAN KEER, J., RUSSELL-SMITH, A., KRONESTEDT, T., ALDERWEIRELDT, M., BOSSELAERS, M. & KONINCK, H. DE (2013) | | Spiders of Crete (Araneae). A catalogue of all currently known species from the Greek island of Crete.&nbspNieuwsbrief van de Belgische Arachnologische Vereniging 28(supplement 1): 1-147 |