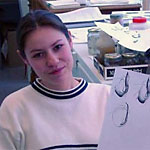 Address (work):
Siberian Zoological Museum of the Institute of Animal Systematics and Ecology, SB RAS,
Frunze street, 11, Novosibirsk, 630091, RUSSIA.
Phone (work): +7-(3832)-170156
FAX: +7-(3832)-170973
E-mail: mu3@eco.nsc.ru

Birth Date: Sept., 17, 1978.
Place of Birth: Barnaul, Altaiskii Krai Province, RUSSIA.

Education: graduated from Biological Faculty, Altai State University (Barnaul, RUSSIA) in 2000.
Theme: "Spider fauna of Korgonskiy and Tigiretskiy Mts. Range (North-West Altai)".

Expeditions:

1998-2000 - mountains of the North-West Altai (Korgonskiy, Tigiretskiy & Bashchelakskiy Ranges);
1997-1999 - project activity: "Studying of redescription dynamics of forest ecosystems in Altai after 1997 fire".
Work: from 2000 года - post graduate student of Siberian Zoological Museum, Institute of Animal Systematics and Ecology, SB RAS, Novosibirsk, RUSSIA.

Scientific interests: systematics of the subfamily Aelurillinae (Salticidae), systematics and faunistics of the Palaearctic spiders.

:: benefit for the website ::
Publications


:: references ::


| | | |
| --- | --- | --- |
| AZARKINA, G. N. (2002) | | New and poorly known species of the genus Aelurillus Simon, 1884 from Central Asia, Asia Minor and the eastern Mediterranean (Araneae: Salticidae). Bull. Br. Arachnol. Soc. 12(6): 249-263 |
| SZÜTS, T. & AZARKINA, G. N. (2002) | | Redescription of Aelurillus subaffinis CAPORIACCO, 1947 (Araneae: Salticidae).&nbspAnnls hist.-nat. Mus. natn. hung. 94: 209-215, Budapest |
| AZARKINA, G. N. (2002) | | Aelurillus ater (Kroneberg, 1875) and related species of jumping spiders in the fauna of middle Asia and the Caucasus (Aranei: Salticidae). Arthropoda Selecta 11(1): 89-107 |
| AZARKINA, G. N. (2003) | | New and poorly known palaearctic species of the genus Phlegra Simon, 1876 (Araneae, Salticidae).&nbspRev. Arachnol. 14(6): 73-108 |
| AZARKINA, G. N. (2004) | | Two new species of the genus Aelurillus SIMON, 1884 from Pakistan and Sri Lanka (Araneae: Salticidae). Bull. Br. Arachnol. Soc. 13(2): 49-52 |
| AZARKINA, G. N. (2005) | | Annotated check-list of Salticidae (Araneae) of Sakhalin Island.&nbspFlora and Fauna of Sakhalin Island 2: 88-95 |
| FISER, C. & AZARKINA, G. (2005) | | A contribution to the knowledge of the jumping spiders (Salticidae: Araneae) of the Republic of Macedonia.&nbspActa Zoologica Bulgaria 57(3): 299-304 |
| AZARKINA, G. N. (2006) | | Four new species of the genus Aelurillus Simon, 1884 (Araneae: Salticidae). In C. Deltshev & P. Stoev (eds.), European Arachnology 2005.&nbspActa zool. bulg. ( Suppl. 1): 63-72 |
| AZARKINA, G. N. & LOGUNOV, D. V. (2006) | | Taxonomic notes on nine Aelurillus species of the western Mediterranean (Araneae: Salticidae). Bull. Br. Arachnol. Soc. 13(7): 233-248 |
| LOGUNOV, D. V. & AZARKINA, G. N. (2006) | | New species and records of Phlegra from Africa (Araneae, Salticidae). Rev. Suisse Zool. 113(4): 727-746 |
| LOGUNOV, D. V. & AZARKINA, G. N. (2007) | | New species and records for jumping spiders of the subfamily Spartaeinae (Aranei: Salticidae). Arthropoda Selecta 16(2): 97-114 |
| LOGUNOV, D. V. & AZARKINA, G. N. (2008) | | Two new genera and species of Euophryinae (Aranei: Salticidae) from SE Asia. Arthropoda Selecta 17(1-2): 111-115 |
| AZARKINA, G. N. (2009) | | A review of the West African genus Saraina (Araneae, Salticidae).&nbspZooKeys 16: 291-300 |
| AZARKINA, G. N. (2009) | | Two new species of the genus Aelurillus Simon, 1885 (Araneae, Salticidae) from Africa.&nbspJ. Afrotrop. Zool. 5: 171-177 |
| AZARKINA, G. N. (2009) | | A brief note on Gambian jumping spiders (Araneae, Salticidae).&nbspNewsl. Br. arachnol. Soc. 114: 7-8 |
| AZARKINA, G. N. & LOGUNOV, D. V. (2010) | | New data on the jumping spiders of the subfamily Spartaeinae (Araneae: Salticidae) from Africa.&nbspAfrican Invertebrates 51(1): 163-182 |
| AZARKINA, G. N. & FOORD, S. H. (2013) | | Redescriptions of poorly known species of jumping spiders (Araneae: Salticidae) from South Africa and Namibia. Zootaxa 3686(2): 165-182 |
| WESOŁOWSKA, W., AZARKINA, G. N. & RUSSELL-SMITH, A. (2014) | | Euophryine jumping spiders of the Afrotropical Region — new taxa and a checklist (Araneae: Salticidae: Euophryinae). Zootaxa 3789(1): 001-072 |
| AZARKINA, G. N. & MIRSHAMSI, O. (2014) | | Description of a new Aelurillus species from Khorasan province of Iran, with comments on A. concolor KULCZYNSKI, 1901 (Araneae: Salticidae).&nbspZoology in the Middle East 60(1): 82-91 |
| AZARKINA, G. N. & FOORD, S. H. (2014) | | A revision of the Afrotropical species of Festucula Simon, 1901 (Araneae: Salticidae).&nbspAfrican Invertebrates 55(2): 351-375 |
| AZARKINA, G. N. & FOORD, S. H. (2015) | | A review of three Tusitala (Araneae: Salticidae) species from southern Africa, with a new synonymy and description of a new species from Botswana.&nbspAfrican Invertebrates 56(2): 285-307 |
| AZARKINA, G. N. & KOMNENOV, M. (2015) | | Descriptions of two new species of Aelurillus SIMON, 1884 (Araneae, Salticidae) from the Mediterranean, with the synonymization of A. steliosi DOBRORUKA, 2002.&nbspZooKeys 516: 109-122 |
| KUZMIN, E. A. & AZARKINA, G. (2016) | | Jumping spiders (Aranei: Salticidae) in Ulyanovsk oblast.&nbspBiologiya – Tomsk State University Journal of Biology 1(33): 82-101 |
| LOGUNOV, D. V. & AZARKINA, G. N. (2018) | | Redefinition and partial revision of the genus Stenaelurillus SIMON, 1886 (Arachnida, Araneae, Salticidae).&nbspEuropean Journal of Taxonomy 430: 1-126 |
| AZARKINA, G. N., ZOUMIDES, C. & HADJICONSTANTIS, M. (2018) | | First description of the female of Aelurillus cypriotus AZARKINA 2006 (Araneae: Salticidae).&nbspActa Arachnologica 67(1): 49-54 |