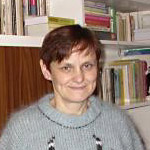 Prof. Dr. hab. Wanda Wesolowska
Zoological Institute, Wroclaw
University, Sienkiewicza 21, 50-335
Wroclaw, Poland

E-Mail: tomwes@biol.uni.wroc.pl


Polish taxonomist, engaged in research on Salticidae.
Born in 1950, studied biology at Poznan University; as a student she was interested in ornithology, her early works were devoted to birds.
Begun profesional employment at Teaching College in Siedlce she has shifted her interest to jumping spiders and remains true to them.
She later moved to Wroclaw University where she is employed now.
She received her PhD for thesis deling with taxonomy of large Salticidae genus Heliophanus containing over 100 species
She has also reconstructed the evolutional history of this genus on the base of the recent species distribution.
She wrote later papers on salticids of Eastern Palaearctic (Korean Peninsula, northern Mongolia, the Russian Far East, the last together with D. Logunov, and Turkmenistan).
The main areas of her interests are now faunistic and taxonomic studies on Salticidae of Palaearctic and Afrotropical Regions.
Recently majority of her research dealt with jumping spiders of Africa: Maltecora, Festucula, Massagris and Harmochirus are among African genera she revised taxonomically.
She described numerous new species from many parts of Africa.
The spider biodiversity is also part of her interests.
African ant-mimicking jumping spiders are her newest interest.
Text by Jercy Proszynsky (www.salticidae.org)

:: benefit for the website ::

publications
drawings
photos
:: references ::