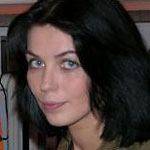 Department of Zoology
University of Podlasie
ul. B. Prusa 12, 08-110 Siedlce, Poland

tel. +48 25 643 13 49, +48 25 643 12 09
e-mail: gard@ap.siedlce.pl

Biography:
Born in 1970
In 1994 graduated with MSc from Jagiellonian University, Krakow, Poland (MSc thesis in: "Heavy metals in small mammals from three different forest areas in Poland").
In 2004 graduated with PhD from University of Podlasie (PhD thesis in: "A revision of the group Diolenieae (Araneae: Salticidae)").
Employed in the Department of Zoology of University of Podlasie, Siedlce, Poland.
Research interests: